ABOUT / PROJECT PARTNERS /
ZUM urbanizem, planiranje, projektiranje d.o.o.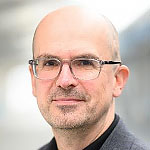 Andrej Žižek
Andrej is an urban planner, architect and researcher with more than 20 years of experience in the field of architecture and urban planning. He holds a PhD on the application of open data ontologies for urban space analysis. He is the managing director of the urban planning company ZUM d.o.o. and an assistant professor of Smart City Management at the DOBA Faculty in Maribor. As a researcher, he participates in projects related to the use of open data for applied purposes of urban management and development.
Jože Kos Grabar
Jože is an experienced urban planner with expertise in the use of GIS and spatial data in sustainable development projects. He is also an experienced project manager who has recently worked on projects funded by EIT Climate-KIC, specializing in citizen participation practices in the field of climate change and environmental protection. He is the author of over 100 published articles dealing with local environmental issues.