ABOUT / PROJECT PARTNERS /
Institut Mines-Télécom
Institut Mines-Télécom is a French public higher education institution under the aegis of the Ministry of Economy, Finance and Recovery that federates leading engineering and management schools: IMT Atlantique, IMT Mines Albi, IMT Mines Alès, IMT Nord Europe, Institut Mines-Télécom Business School, Mines Saint-Étienne, Télécom Paris, Télécom SudParis, its two subsidiaries EURECOM et InSIC as well as four associate or contracted partners: Mines ParisTech, Mines Nancy, Ensiie et Armines.
Visit > Institut Mines-Télécom website 
Noel Crespi
Noel holds Masters degrees from the Universities of Orsay and Kent (UK), a diplome d'ingénieur from Telecom Paris, and a Ph.D and an Habilitation from Sorbonne University. From 1993 he worked at CLIP, Bouygues Telecom and then at Orange Labs in 1995. He joined Institut Mines-Telecom, Telecom SudParis in 2002 and is currently Professor and Program Director at Institut Polytechnique de Paris, leading the Data Intelligence and Communication Engineering Lab. He coordinates the standardization activities for Institut Mines-Telecom at ITU-T and ETSI. He is also an adjunct professor at KAIST (South Korea), a guest researcher at the University of Goettingen (Germany) and an affiliate professor at Concordia University (Canada). He is the scientific director of ILLUMINE, a French-Korean laboratory. His current research interests are in Sotwarisation, Artificial Intelligence and Internet of Things.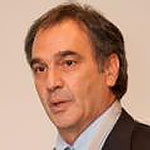 Roberto Minerva
Roberto received the M.S. degree in computer science from the University of Bari Aldo Moro, Bari, Italy, in 1987, and the Ph.D. degree in computer science and telecommunications from Pierre and Marie Curie University-Sorbonne University, Paris, France, in 2013. Since 2018, he has been an Associate Professor in softwarization with the Service Architecture Laboratory, Wireless Networks and Multimedia Services Department, Institut Mines Telecom, Telecom Sud Paris, Évry, France, a part of the Institute Polytechnique de Paris, Paris. He is also an author of more than 50 papers in journals and international conferences. Dr. Minerva is a member of the Scientific Committee of the Fondazione Bruno Kessler, Trento, Italy. He has been the Chairperson of the IEEE Internet of Things Initiative from 2014 to 2016.
Praboda Rajapaksha
Praboda is a Research Fellow at the Institut Polytechnique de Paris, France. She holds a PhD in Computer Science from the Institut Polytechnique de Paris, France (2021). She received her M.Eng. in Computer Science from the Asian Institute of Technology, Thailand; her M.Sc. in Communication Networks and Services from Institut Mines-Telecom, France and her B.Eng. in Computer Engineering from the University of Peradeniya, Sri Lanka. Her primary research interests include NLP, Deep Learning and Data analysis. She has 7+ years of experience as a research scientist in data processing/collecting and employing predictive/prescriptive analysis to solve various research problems. She has collaborated in several European (ITEA, BPI, Horizon) and French national projects (FUI).
Maira Alvi
Maira is the research and development engineer at Telecom Sudparis. She has seven years of teaching experience in a reputable university of Pakistan. She received her B.S. degree in Electronics Engineering from Lahore College for Women University, Lahore, Pakistan and her M.S. degree in Electrical Engineering from Khwaja Fareed University of Engineering and Information Technology, Rahim Yar Khan, Pakistan in 2020. Since 2017, she has worked for Charitable organization "One Day for Humanity " as an advisory board member. She also works for many national and international technical and non-technical societies like IEEE WIE as a Branch Councilor in southern Punjab, Pakistan. Her research interests include machine-type communications (MTCs), the Internet of Things (IoT), Smart Cities, and Digital Twin.
Razieh Chalehchale
Razieh is an R&D engineer, and soon-to-be PhD candidate at Institut Polytechnique de Paris in France. During her studies, Razieh excelled as the top student in both her bachelor's and master's programs, which focused on software engineering and IT engineering, respectively. She also gained practical experience by working part-time for two years as a 3D modeler at a local gaming company in Iran. Following this, she spent a year as a full-time data scientist at the largest telecommunications company in Iran, where she started as an intern and was recognized as a top performer during the internship program. Razieh is passionate about exploring NLP and deep learning techniques, particularly in the context of detecting fake news. She is currently involved in two EU projects.