ABOUT / PROJECT PARTNERS /
LINKS Foundation
LINKS Foundation is the result of a partnership between the Compagnia di San Paolo Foundation and the Polytechnic University of Turin. LINKS has been operating for over 20 years in applied research, innovation and technology transfer. This dynamic and fast-evolving organisation creates value for society through its 160+ researchers and a wide-ranging network of more than 2500 partners across Europe. The Foundation adopts a multidisciplinary approach to digital transformation by dealing with its technical, strategic and governance aspects.
Visit > Links Foundation website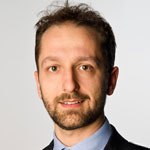 Enrico Ferro
Enrico has been working in the field of digital transformation for over twenty years and currently works at LINKS Foundation where he is in charge of the Strategic Advisory Function and Overtheblock, the Foundation's blockchain observatory. He regularly holds courses on innovation management on behalf of the United Nations where he is also a member of the Blockchain Expert Group. Dr Ferro has worked as a strategic advisor in numerous international research projects financed by the European Commission and is a mentor in the Techstars and Sellalab startup acceleration programs.
Stefano Pensa
Stefano holds a Ph.D. in Architecture and Design. Since 2010 he has been working as researcher at the Logistics and Transport Research Unit of SITI and since 2018 in LINKS Foundation in the Future Cities and Communities research area. With a strong specialization on the subject of data visualization concerning spatial processes and GIS technologies applied to urban planning and transport, he contributes to studies on transportation and mobility planning.
Roberto Moncada
Roberto works as a researcher in the field of technological innovation at the LINKS Foundation. He received a double Master's degree in Economics in 2019 from the University of Siena and Uppsala Universitet. In conjunction with his research work, he is involved in the "Vilfredo Pareto" Doctoral Program in Economics at the University of Turin and Collegio Carlo Alberto. His fields of specialization range from Applied Economics to Tokenomics and the Economics of Innovation with a specific focus on emerging technologies.